WEIGHT CUT + REFUEL PROTOCOL
Want to kick your training sessions up a notch and burn some fat or build some muscle? This is the perfect package to fuel your body for training, recovery and an active lifestyle.
PROGRAM PACKAGES
HERE'S WHAT YOU'LL RECEIVE
We take the guesswork out of how to fuel your body for peak athletic performance
SIGN UP
BECOME AN ARES MEMBER
DESCRIPTION
WEIGHT CUT + REFUEL PROTOCOL
Short notice match? Overwhelmed by the weight you have to drop? Cut the weight without compromising your performance on the big night. 
A lot of combat sports competitors don't know that you can safely cut 5-12% of your total body mass over a 7-10-day period before weigh in. And better yet if you follow the correct refuel protocol you will have no detriment to your performance come show time. 
The weight cut protocol is perfect to allow you to reach a lighter weight category where you will be more competitive, while the refuel protocol will allow you to perform at the same level you did in training, despite just having cut a significant portion of your body mass. 
Once you have purchased this package, you will gain access to the members section of the website. Here, you will be invited to complete a comprehensive questionnaire, giving us the opportunity to learn more about you and how we can help. 
Join the Ares team today and make your fight weight without compromising performance. 
Also included in the weight cut + refuel protocol is the Ares Performance Nutrition Information Pack – a brief guide to Performance Nutrition, the weight cut protocol and the refeed protocol. There is some "need to know" information we would like you to read before moving forward, so you can be informed on the "why" of the process. Education is important to us and we will do our best to pass our knowledge on to you. 
By understanding the "why" behind performance nutrition and the weight-cut/refeed protocol, you can better appreciate how Ares prioritizes performance and health to propel you towards your goals. You will also gain scientifically backed insight on how to cut 5-12% of your body mass during fight week and how to refuel optimally so as not compromise performance.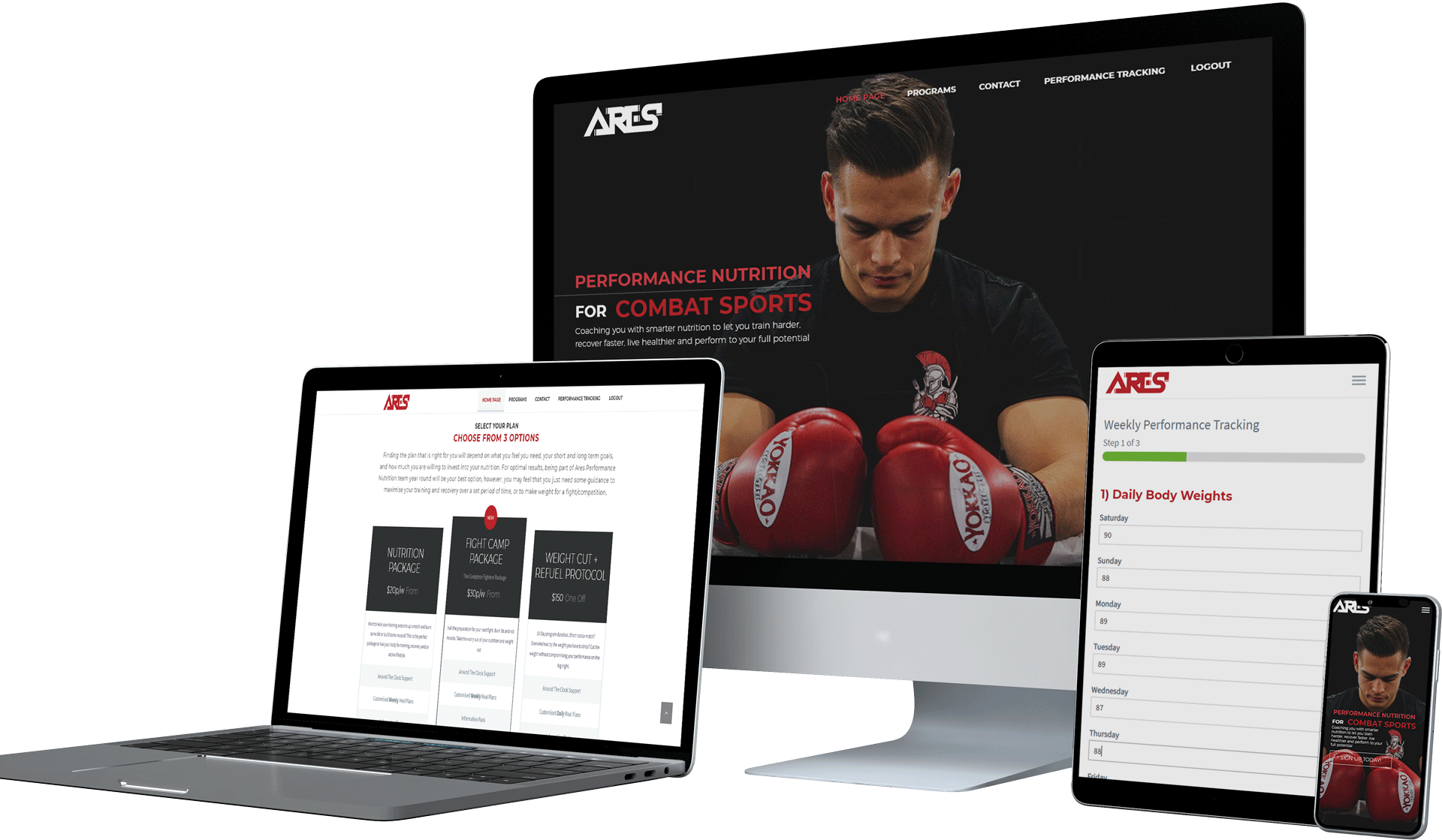 Within 24 hours of joining team Ares, your coach will be in touch with your personalized meal and supplement plan. We will be in close contact over your fight week, where your plan will be adjusted every day to implement several weight-cut/refuel strategies.  
These strategies include a sequence of water manipulation, salt restriction, glycogen depletion, a low residue diet, energy dense food selection, induced sweating, creatine removal and use of natural supplements.  
Once you have reached your weight, the refuel protocol replenishes what you depleted from your body during the weight cut and gets you primed for peak performance. 
Throughout your short journey to reaching fight weight and entering the ring, the cage, or the mats in superior athletic condition, if there is anything you're not quite sure on you will have 24/7 support from your coach.